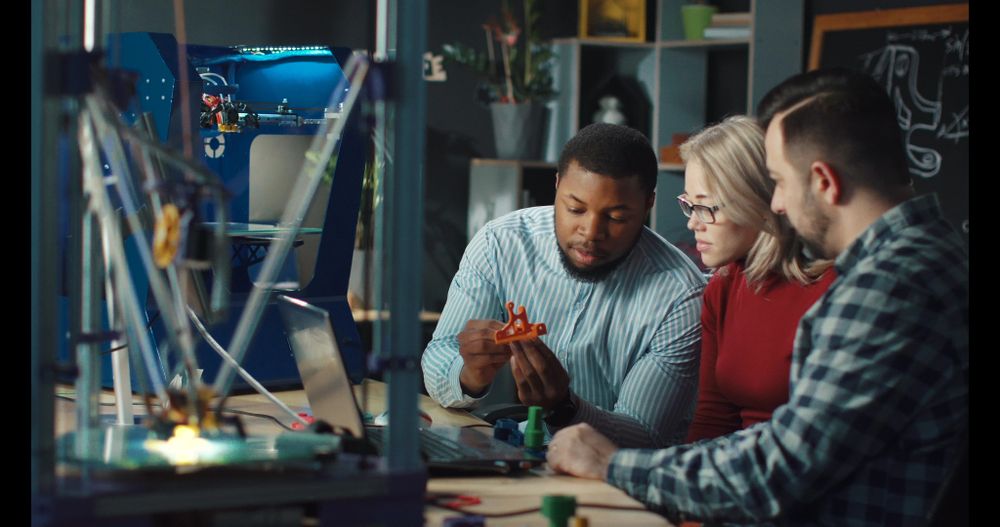 Work or Intern at the Most Innovative Mechanical Engineering Companies
You've probably already realized that the career path of a mechanical engineer isn't for everyone. There's no need to be overly modest; we all know that it takes a lot of hard work and studying to learn the skills to do what you do!
Because it is such a complex but in-demand job, you're going to be able to find work whether you have a degree or not. Some places will pay more to those with a college education, but the job itself comes with a hefty starting salary even if you are self-taught.
If you can prove you have what it takes to work on high-pressure projects using technology that might be completely new to you, you don't have to worry about finding a job. It's just a matter of finding a job with the right company.
These mechanical engineering companies have reputations for being some of the most fascinating places to work in the world — and the pay isn't too shabby, either!
1. NASA
What child never dreamed about going to the moon or hanging out with the stars? As a mechanical engineer, that job is now within your reach.
A job with the National Aeronautics and Space Administration (NASA) opens the door for you to work with some of the most reputable and knowledgeable scientists in the world.
If designing rocket ships or coming up with innovative ways to explore space is your dream job, don't just wish upon a star — go apply at NASA!
Benefits of Working at NASA
The perks of a job at this famously innovative company are numerous, regardless of your position.
NASA employees get the red carpet of benefits, like insurance plans that cover health, dental, vision, and life. Since it's technically a federal job, the government shares half of all premiums.
Salaries are highly competitive, and a comprehensive retirement plan is part of the package.
Hard work pays off here. If you do well, you can expect to climb the proverbial ladder and receive monetary and non-monetary awards. Career growth is a big deal, and those who are interested in continuing to learn can benefit from things like tuition assistance, on-site training, and career counseling.
Family-oriented people love working at NASA because the company puts your life first, as long as you're doing your job. Work hours are flexible and telecommuting is possible. You get paid holidays and lots of sick leave and personal time-off that increases the longer you stay with the organization.
Ready to turn in your resume?
Mechanical engineers are in demand, but before you do, check out these expert suggestions:
Do Your Research
Visit NASA's automated recruitment page,
NASA STARS
, and check out the requirements so you can get everything ready.
Choose Your Words Carefully
Include updated, relevant keywords in your resume because the AI system that NASA uses is advanced and only searches for the best.
Polish Your Resume
Have your resume reviewed by a professional resume writer or someone comparable to verify there are no mistakes. They'll also ensure you've spotlighted your major skills and talents in mechanical systems and engineering.



It's worth putting a substantial amount of effort into your resume. If you can stand out from the other candidates, you'll be more likely to land an interview and secure a job.




With a salary range of $75,000 to $100,000, plus benefits, you'll be rewarded for your dedication and knowledge. And if you decide to go in as an intern, you will get your foot in the door for a potential future job. NASA builds internally, so impressive interns are often first in line for new job openings.

Related: How to Become a Mechanical Engineer [GUIDE]
2. Boeing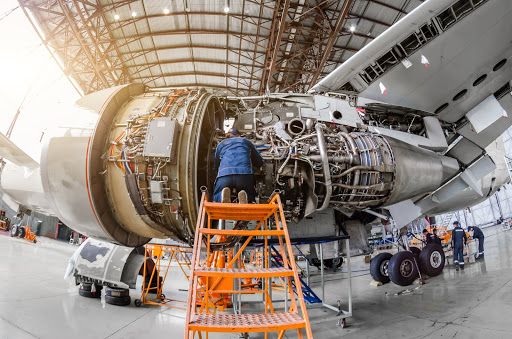 In terms of prestige, Boeing is right behind NASA. This company spreads its wings wide, working on projects ranging from state-of-the-art aerospace vehicles to high-tech security systems.
A mechanical engineering job at Boeing is never boring since there is always a new project in the pipeline. If you can get hired or land an internship at this multi-billion dollar company, you will be treated well!
Benefits of Boeing Jobs
Boeing employees receive a company portfolio package called "Total Rewards." It's a holistic approach used by Boeing to entice and retain the best of the best in engineering services.
When you work hard here, you get rewarded with incentives like:
Market-leading health insurance
Substantial retirement plans
Tuition assistance for furthering your education
Personal, sick, and holiday pay
Annual incentives based on company and individual performance
A base pay that is not "one-size-fits-all" but takes into account your talents, skills, and the value of your potential overall contribution
And the salary range for mechanical engineers with at least a bachelor's degree is $66,000-$94,000, which is fantastic!
If Boeing sounds like a place where you'll fit right in, you can
apply for a mechanical engineering position
on their website. They keep their job openings updated regularly.
Tip:
As a new engineer, your knowledge and skills determine your base salary. Taking
online courses
and pursuing self-directed study can make you more valuable to potential employers.
3. Lockheed Martin
Similar to Boeing but slightly lesser-known, this aerospace and defense technology company has been around since 1995. Lockheed Martin has more than 110,000 employees, and many of them are engineers.
Because Lockheed Martin works with U.S. government organizations to produce defense technology with advanced computer hardware, the engineers who work here often design safety and combat gear and some of the most advanced military aircraft.
Benefits of Working at Lockheed Martin
Besides the enjoyment of having a casual dress code and relaxed atmosphere, there are some financial perks to working at Lockheed Martin. Once you're established there, you'll reap the many advantages of the job, like:
401(k) and health and life insurance
Paid sick leave, holidays, and personal time off that increases with years of experience
Reimbursement for furthering your education and earning certificates
An average salary of $81,000/year plus annual cash bonuses
Mechanical engineers are always in demand at Lockheed Martin, and interns are welcomed, too. If you want to apply, start your job search on their
Job Opportunities page
.
4. Disney World/Land
It's been dubbed the happiest place on earth for visitors and employees, and you can work there.
When you work as a mechanical engineer for The Walt Disney Corporation, you design and develop rides!
How much more fun can engineering be?
Oh, wait, it gets better:
You get to test them out, too!
Disney Corp. is one of the largest, most well-known companies on the planet. There is a lot of job stability here, and the company is known for its
generous benefits and compensation packages.
Benefits of Working at Disney
Aside from the ultimate perk of working at Disney and getting into the parks for free, this job's benefits are enticing:
Slightly higher salaries than the average pay for the same position
401(k) and health, dental, and vision insurance
Paid holiday, vacation, sick, and personal time off
Merchandise and resort discounts
Interns and employees who get hired at Disney Corp. go through a rigorous screening process, especially mechanical engineers. There's nothing more important to this company than their guests' safety, which makes your job crucial.
A design engineer at Disney should have an engineering degree or a lot of training and experience to get recognized.
If you want to make the cut, your resume has to stand out. Highlight all your training and professional skills, then submit your application to the
DisneyCareers page
.
5. Ford Motor Company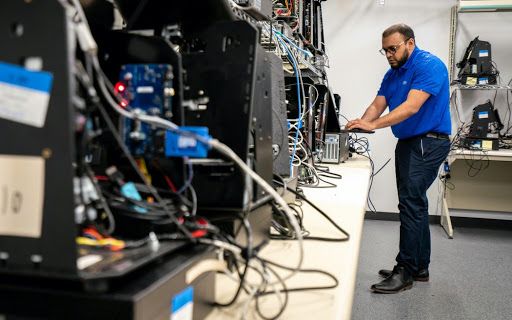 If you're looking for a company known for its stability and reputation, Ford is the place to go.
Part of the "Big Three" (the top three automakers in the United States), Ford is quite possibly the most popular car manufacturer in the world.
With this much demand, it's no wonder Ford Motor Company encourages engineers to apply and offers great perks to work there.
Engineering students can gain entry-level jobs and move up quickly as they demonstrate their value.
Job Benefits at Ford Motor Company
Employees at Ford Motor Company are treated well.
In addition to discounts on their Ford auto purchases, other advantages to the job include:
Retirement packages and health, vision, dental, and life insurance
Paid vacations, holidays, and personal and sick leave
Education reimbursement and on-site training
An average salary of $91,000/year plus cash bonuses
Mechanical engineers hoping to work for Ford can apply on sites like
Glassdoor
.
6. Google
Some people say that Google is taking over the world, and they're quite possibly right. Wouldn't you like to be along for the ride?
Mechanical engineers at Google design cutting-edge technology that's likely to change society in significant ways.
Google is based in California but has satellite offices all over the world. You can work from anywhere as a mechanical engineer for this company (and get paid quite well!).
Benefits of Working at Google
The perks of working for a mega-company like Google go beyond the obvious. Sure, you get all the requisite insurances, retirement and health plans, and paid time off.
But according to past and present employees, those aren't the best parts of the job.
Interns and staff enjoy other advantages, such as:
Free, healthy gourmet meals provided on the job
A challenging environment full of strong, intelligent thinkers
Innovative technology with the newest gadgets in all facets of the workplace
A pet-friendly environment
Career growth support, including on-site training and reimbursement for continued education
Working at a place where dogs are welcome is never a bad thing. Whether it's the food, the pet policy, or something else, if you have what it takes to impress the Google hiring managers, give it a try!
Before you jump straight into job openings, you should know this:
Mechanical engineers at software giants like Google have a bit more responsibility than those at other companies.
You'll be expected to manage the entire lifecycle of a project, from designing and building your own hardware to executing the plans. You should be confident that you can handle every part of the project roadmap, train team members, and consult on potential risks and obstacles.
Not intimidated? Check out the positions for mechanical engineers and submit your resume on their
Engineering and Technology page
.
7. Apple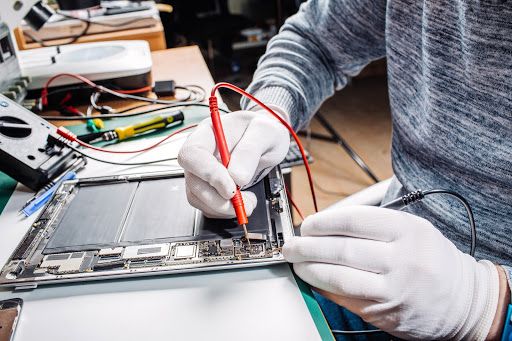 Even without Steve Jobs, Apple continues to reign as one of the world's major technology giants.
Information technology and consumer electronics are continually improving, and Apple's mechanical engineers are leading the charge. With the main headquarters in Silicon Valley but offices everywhere, those who work for Apple aren't limited to one city.
Mechanical engineers are needed to test and develop new products, software, and applications. Employees and interns get the prestige of working for Apple, and the full-time jobs are loaded with perks.
Apple Benefits for Employees
Apple is as successful as it is because it creates an immersive customer experience. That dedication extends to its employees, as well.
When you work for this major company, you'll get benefits like:
Individualized healthcare plans
Paid time off, holidays, and sick leave
Reimbursement for educational expenses
Donation contribution matching
An average job salary of around $121,000/year for mechanical engineers
From perfecting iPads to expanding Siri, there is plenty for a mechanical engineer to do. Like Google, though, you'll have a hand in every part of the design process, including building your own hardware!
If you have the skills to stay up-to-date with this cutting-edge company, check out the
Jobs at Apple
page and apply for your next role.
Tips for Landing a Job with a Top Mechanical Engineering Company
You may know that you have what it takes to compete with the top minds in any of these companies. But landing an interview where you can impress the hiring managers is another thing entirely.
No one knows you unless you have an "in" at the company. Standing apart from the other highly intelligent candidates requires you to be a little "extra."
If you don't have work experience but know your way around mechanical design, use these tips to give yourself an advantage:
Widen your knowledge base so you have more value and more to offer the company.
Hire a professional resume writer or learn the tricks to boost your chances of getting your application approved by autobots.
The hard part is getting your resume into the right hands. Once you've learned the skills to do the job and used the optimization tricks to get past the bots, the interview is where you win the managers over.
This same strategy is necessary whether you're applying for an internship or a job position. Since everyone wants to work in these cush jobs, it's up to you to show them why you're the best choice.
Related:
13 Mechanical Engineering Projects to Develop Experience for Finding a Job
Conclusion
The future of your entire career could hinge on the right internship or job position. When it lands in your lap, you want to be ready to take advantage of it!
With a global market of competition and some of the world's brightest minds aiming for the same positions you are, it's your responsibility to prepare.
Load up on the skills and talents that these mighty corporations see as valuable, and then apply for your dream role. It's out there waiting for you!
Created with